Waterco OPAL Cartridge Filter 180 Sqft
Opal Cartridge Filters
The Opal cartridge filter provides sparkling clear water and requires minimal maintenance.
The filter's screw on lock ring allows easy access to the filter cartridge for removal, cleaning and installation in a matter of minutes.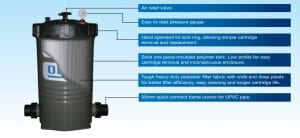 Pleated Filter Cartridge
The Opal's Filter Cartridges are fabricated from pleated reusable polyester fabric. The media has been pleated to provide 12.5 to 16.7 square metres of surface area in order to maximise the cartridge dirt holding capacity and extend the time between cleaning.
Material: Polyester Fabric material, Vinyl Plastisol end caps and a Polypropylene core
Operating Temperature: 4ºC to 50ºC
Maximum Pressure Drop: 20 kP
Simple Maintenance: The filter cartridge is easily cleaned by hosing the pleats with a standard garden hose.
Warranty Opal Filter
Tank: 10 Years (5 Years Full + 5 Years Pro Rata)
Other Components: 1 Year
Labour: 1 Year